Kayak Reflective Tape Safety Set
I am currently away from work until Further Notice. For wholesale orders and enquiries please use the chat plugin or contact us page.
Kayak Reflective Tape Safety Set
Be safe and be seen when kayaking with our 12 piece reflective sticker set for your paddle and kayak.
A must-have accessory for all kayaks and canoes. Regardless of whether you Kayak during the day or a night, you need to be visible to other marine traffic. Our kayak reflective tape set are made from maritime grade reflective material and industry adhesive packing. Our reflective kayak paddle sticker set comprises of 10 reflective stickers, all made in the UK.
Having reflective stickers on your kayak and paddle increases the means of attracting attention should you get into trouble while out paddling.
Kayak reflective stickers for paddles
Suitable for all types of Kayak and Canoe paddles
12 piece set – comprising of 6 20cm strips (50mm wide) for your kayak and 6 pieces for your paddle.
Made in the UK
Adhesive backing
Marine grade reflective tape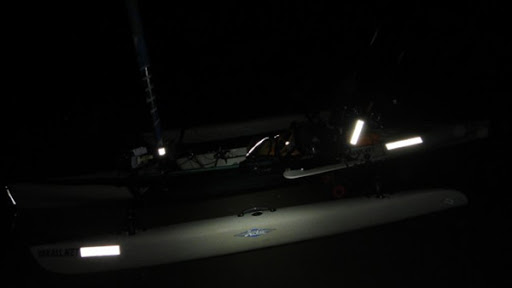 Certification Information:
Our reflective tape does not carry the 'SOLAS APPROVAL' mark which is required only for use in the manufacture of life jackets and commercial shipping. This tape is suitable for personal use where SOLAS approval is not required (Kayaks, SUPs, Canoes, Sailing Yachts, Jet Skis), our tape performs at the same level of SOLAS approval tape. We have not submitted the tape for approval in order to keep the cost low and affordable for recreational users.